DREAM ABOUT GETTING RID OF THE PAIN AND FRUSTRATION OF DEALING WITH SYMPTOMS OF ORAL OR GENITAL HERPES?
You feel like something's burning there? This may be a sign of an oncoming herpes outbreak. What's most gut-wrenching about it is the fact that it is highly contagious and the blister will pop up anyway. Every such occurrence evokes the same old string of moot questions: "When will it end? When will it happen next time? Will I be able to clear it as soon as possible?
DREAMS DO COME TRUE! HOMEOPATHIC RELIEF IS THERE TO HELP YOU!
Scientists are working around the clock to find an effective medicine against genital herpes, and now they have come up with a good solution to ease the pain - Herpeset. This is a unique concoction of 9 ingredients, which are well known throughout the homeopathic community for their exceptional efficiency in relieving nasty symptoms of Herpes Simplex Virus. Here are a few examples:
WHAT MAKES HERPESET SO SPECIAL?
No need to take Herpeset internally! The sublingual liquid oral spray penetrates into the blood system via under-the-tongue area without having to be swallowed. Actually, this is the quickest way to bring the ingredients to the affected spot and suppress the symptoms, improve your overall condition and get you back to your normal life mode.
Herpeset homeopathic mixture is formulated to eliminate the numerous manifestations and there are no side effects if used in combination with other medicines. All you have to do is spray under the tongue 3 times each day and wave good night to herpes symptoms!
A MULTIPURPOSE HOMEOPATHIC SPRAY
Homeopathy specialists have spent decades using Herpeset ingredients separately, following the traditional one-at-a-time symptom treatment tactics. Our experts have chosen to cover a broader array of symptoms of genital herpes by implementing all three ingredients in a single oral spray blend. Here are examples of common symptoms that each ingredient has been officially tested and proven to treat (for full listing, go to Ingredients page):
POINTS TO REMEMBER FOR HERPES SUFFERERS, PARTICULARLY PREGNANT WOMEN
So far, there is no effective cure for genital herpes. The Herpeset spray provides no herpes transmission barriers, so you MUST NOT disregard safe sex and MUST let your sexual partner know you have the herpes virus! Pregnant and lactating women should consult their doctors, as Herpeset does not reduce the risk of transmission of the virus to the foetus or already born child.
THE STRESS FACTOR
Once the Herpex Simplex Virus gets into the body, it takes up residence inside, waiting for the right moment to surface. There are lots of factors to provoke an outbreak, and, strange though it seems, emotional stress is considered a major one. Discovering the infection inside your own body is quite a shakeup. Endless worrying about the next attack adds even more fuel to the fire, and this is common to all genital herpes patients. There are many individual physical factors, such as cold, fever, menstruation cycle, sunburn, etc. Agrinin, contained in some foods, such as seeds, nuts, chocolate, beer, cola, etc. – can also contribute to herpes breakouts.
NOW THE PROTRACTED SEARCH FOR A SOLUTION IS OVER, BUT BE QUICK TO TAKE ACTION!
We offer a high quality homeopathic Herpeset product, which is based on natural ingredients and whose efficiency in relieving symptoms and healing your body has been time-proven. Then why be so slow to act?
You will definitely want to have more Herpeset in possession to Easily and Solemnly Make it Hot for Herpes Outbreaks with no detriment to your body!
Genital Herpes And Its Health Effects
In these days, we are bound with many office and home work which do not allow us to spend some time for ourselves. There is a major class of those people who remain busy in such work and do not give importance to their health. As a result, they become the victim of many health diseases. Sometimes they even do not go to the doctor for medical treatment. They think that they can cure their health problems by using ordinary medicines. This perception of people for their health is very wrong and it is the time to change it. Every person who is affected by any health problem should directly go to the doctor. Besides this, people should go to the doctor every month for a complete medical checkup. In such a way, the person will keep save from all sever health ailments.
Well, discussing about the sexually transmitting diseases, we come to know that they have become very common in people due to extreme carelessness of people. Sexually transmitting diseases are usually transmits from one body to another when an unprotected sex takes place. It is highly recommended to all people to have a safe sex with their partner. Safe sex can be done by different things available in market easily at cheap rate e.g. condom. Although there are numbers of sexually transmitting diseases present in our nature but here we shall only discuss about the genital herpes.
Genital herpes, as its name suggests, is an infection diseases that burns the skin near to genital organ. This happens when small blisters appear on the skin and cause itching there. This situation becomes very uncomfortable for the infected person. Besides the appearance of blisters, there are many other symptoms which appear to show this infection. In these symptoms, flu, fever, itching, headache and vaginal discharge are present. This infection disease does not only occur in women but also in men. So the safety measures should be taken by both parties if anyone is suffering with this infection.
The treatment period of this infection is quite long as no medicine is made for its treatment. The infected area starts to become normal after a few weeks. If the treatment of this infection is started at initial stage, then its complete treatment can be done in a few months otherwise it may takes several years. In case, if it returns back later then its symptoms will not be as severe as you had faced. Such people have tingling sensation in the area around genital before the appearance of blisters. This is basically due to the inflammation of nerves and irritation.
Let us discuss about the basic cause of genital herpes. Like many other health problems, this is also caused by the virus so we can also call it as viral infection. HSV-1 and HSV-2 are the names of those viruses which cause this infection. The chances of HSV-1 transmission from one body to another are only through the oral sex.
Home Remedies for Genital Herpes
Herpes is a common sexually transmitted infection. It occurs due to herpes simplex – 1 viruses as well as herpes simplex – 2 viruses. Where herpes simplex- 1 virus is responsible for oral infections, herpes simplex- 2 viruses cause genital herpes. The infection can spread from one person to another. This makes genital herpes even more common.
The virus is sexually transmitted. When a person suffering from herpes simplex- 2 virus infection comes in close contact with the healthy person, the person gets infected. The infection can occur in mouth and genital area due to oral- genital contact.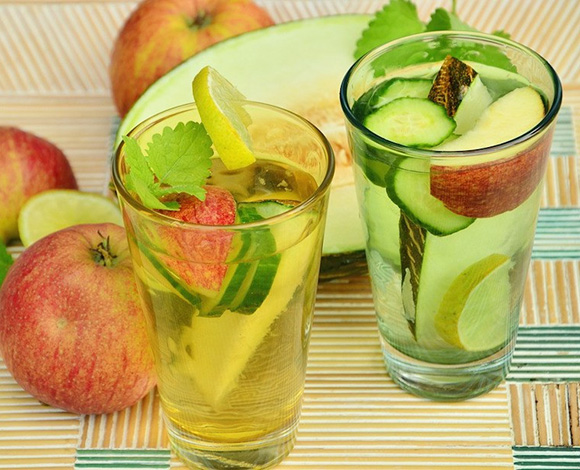 The infection is characterized by occurrence of sores. The viruses have the capability to get transmitted even in the absence of sores and any other symptoms.
A person suffering from herpes simplex infection will present with the occurrence of blisters, presence of mouth sores as well as enlarged lymph nodes. In the first episode of the infection, occurrence of fever is common.
The virus can also retreat to nervous system. In the presence of triggering factors like illness, stress, certain foods, surgery, compromised immunity or illness, the virus tends to become active again.
There are certain home remedies that help in the treatment of genital herpes. They include:
1. Apple Cider Vinegar
Apple cider vinegar is a great remedy for apple cider vinegar. Apple cider vinegar has anti- inflammatory, disinfectant and astringent properties and so it helps in eliminating the outbreaks.
The remedy is also easy to follow. Just take a cotton ball and dip it in vinegar. Now dab the cotton ball on the affected areas. Follow the remedy three to four times a day for about 2 to 3 days.
Another way to use the remedy is to add 1 or 2 teaspoon of apple cider vinegar into a cup of water. Mix well and drink it two times a day.
2. Licorice Root
Licorice helps in fighting the infection. It also boosts immunity. Glycyrrhizin, which is the active ingredient of licorice has anti- inflammatory and antiviral properties that help in fighting the herpes infection. The remedy is not for the people who are suffering from hypertension.
Take one and a half tablespoon of water. Add a tablespoon of licorice root powder. Mix well and dab on affected area. Let it sit for a few hours. Follow the remedy 3 to 4 times a day until all the blisters vanish.
3. Tea Tree Oil
Tea tree oil has anti inflammatory, anti- viral and analgesic properties. It is rich in terpenes and phenylpropanoids that help to fight against the virus.
Take ten drops of tea tree oil and dilute it with one and a half ounce of vegetable oil. If you want, you can add five- five drops of geranium essential oil and myrrh essential oil and 2 drops of peppermint oil.
Apply it on the affected area 3 to 5 times a day for few days.
4. Aloe Vera
It helps in healing the lesions caused by herpes and also prevents outbreaks. It relieves inflammation and pain.
Take some fresh aloe vera gel directly from its leaves and apply on the affected areas. Let it dry and then wipe with washcloth dipped in warm water. Follow the remedy several times in a day for 3 to 4 days.
5. Coconut Oil
Coconut oil has antiviral properties.
Drink about 10 to 30 ounces of virgin coconut oil regularly.